When the first cases of coronavirus spread from Wuhan to western Europe in February the chief executive of mPharma, a pharmaceutical distribution start-up in Ghana, feared he would have a problem. As the world began to scramble to access the drugs and equipment needed to track and treat the pandemic, he knew Africa would be at the back of the queue. "We were alarmed that if cases crept up in Africa we were going to face the same issues that the US and most European countries faced in accessing tests," Gregory Rockson said from his headquarters in Accra. African states mostly lack local industry capable of producing the supplies needed to battle the outbreak. And when they have sought to procure goods abroad, African governments — short of the commercial muscle needed to compete against bigger economies — have been told their orders were too small or too late. In anticipation of the problem, Mr Rockson and his investors at Silicon Valley-based Breyer Capital decided to use their relationships, and particularly those of the venture capital fund's founder, Jim Breyer, to track down supplies. We set up a war room and started listing every single diagnostics company in China Gregory Rockson, mPharma The billionaire, an early Facebook investor, is also co-chairman of a Beijing based investment firm and has a deep network of Chinese contacts, Mr Rockson said. Mr Breyer's sons, who run the family's Breyer Labs fund, worked with Mr Rockson to find a supplier. "We set up a war room and started listing every single diagnostics company in China," he said. "And then [we] just had Jim call them."
It ended up in negotiations with Sansure Biotech, a Chinese molecular diagnostics company with whom they were able to secure a long-term deal for coronavirus testing equipment. The tests were shipped to Ghana via another Breyer portfolio company, Jetstream, an African logistics firm. In total, Mr Rockson, working with Breyer, was able to secure a supply of 1m Covid-19 test kits and 150 PCR machines, which process the results. mPharma has since distributed the medical supplies to governments, organisations and private labs in Ghana, Gabon, Republic of Congo, Nigeria and Zimbabwe, making it one of the largest suppliers of Covid-19 materials on the continent.
mPharma is one of several African companies that have been able to strike deals for critical medical supplies by tapping their global networks, even as their governments have been largely shut out. One of Nigeria's biggest companies, Flour Mills of Nigeria, has donated tens of thousands of tests and several mobile diagnostics labs to the public health effort, working through Lagos-based genomics start-up 54gene and other vetted suppliers. Like mPharma, Flour Mills found that western countries were being prioritised by most international medical suppliers.  With access to many ports and airports around the world restricted, the company used its food supply chains to source the equipment from a Chinese company and ship it to Nigeria. "We bring in goods, wheat, sugar, so we have a supply chain team that has relationships across the world, so they were calling people we bought things like fertiliser [from] and saying 'could you hook us up with folks we could reliably buy testing equipment from'," said Boye Olusanya, chief operating officer of Flour Mills.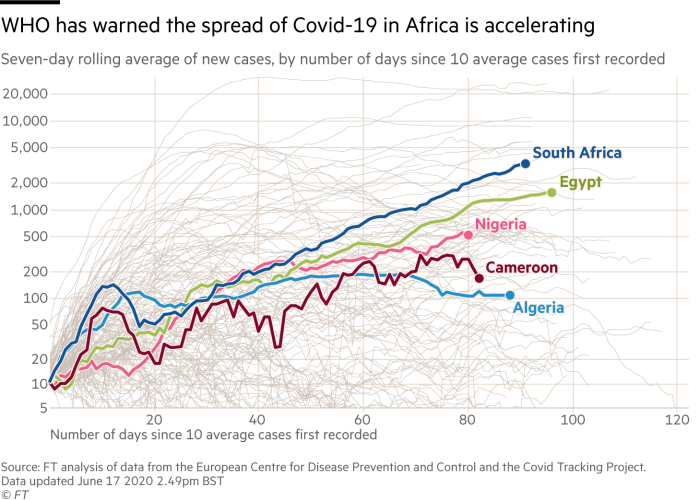 Public health officials have suggested that the pandemic may be evolving differently in Africa to other parts of the world. Transmission rates seem to have been slower, perhaps because the median age in Africa is 18, less than half of the average in Europe. But the World Health Organisation last week warned that the pandemic was "accelerating" in Africa after the number of confirmed cases had begun to increase more quickly, even as testing rates remain far below those in western Europe and the US. While many African countries instituted coronavirus restrictions earlier than their western counterparts, the economic impact has been even more severe because so many Africans work in the informal economy. That makes prolonged lockdowns impossible and means testing will have to play an important role if the continent is to contain the pandemic.
The Africa Centre for Disease Control estimates Africa will require 10m to 15m testing kits in the next four to six months. It is working to pool government orders for tests and other equipment so African countries can compete and secure the essential supplies. The software system is being funded by Zimbabwean billionaire Strive Masiyiwa and, until it is fully operational, the private sector is filling the void. Abasi Ene-Obong, chief executive of 54gene, said that while institutions such as the Nigerian Centre for Disease Control were doing what they could with limited resources, private enterprise had played an important role in the country's coronavirus response. "What I have seen is the private sector really coming together to bail the country out," said Mr Ene-Obong. "Most of the funding that is being used during this pandemic has really come from the private sector, around isolation centres, around testing, around feeding — what it says about [Nigeria] is that it has a thriving private sector."
Source: https://www.ft.com/content/9c745615-d0d4-4345-99c3-fd1dbf2f83be