About Africa Medical Supplies Platform
The Africa Medical Supplies Platform is a not-for-profit initiative launched by the African Union as an immediate, integrated and practical response to the Covid-19 pandemic.
The Africa Medical Supplies Platform (AMSP) unlocks immediate access to an African & global base of vetted manufacturers and procurement strategic partners and enables African Union Member States to purchase certified medical equipment such as diagnostic kits, PPE and clinical management devices with increased cost effectiveness & transparency. The platform serves as a unique interface enabling volume aggregation, quota management, payment facilitation as well as logistics & transportation to ensure equitable & efficient access to critical supplies for African governments.
The online platform was developed under the leadership of African Union Special Envoy, Strive Masiyiwa and powered by Janngo and Vaya on behalf of the African Union's Africa Centres for Disease Control and Prevention (Africa CDC) and in partnership with African Export-Import Bank (Afreximbank) and United Nations Economic Commission for Africa (ECA) with the support of leading African & international Institutions, Foundations & Corporations as well as Governments of China, Canada & France. Other technology & knowledge partners include Baobab Circle.
Africa Centres for Disease Control and Prevention (Africa CDC) is a specialized technical institution of the African Union established to support public health initiatives of Member States and strengthen the capacity of their public health institutions to detect, prevent, control and respond quickly and effectively to disease threats. Africa CDC supports African Union Member States in providing coordinated and integrated solutions to the inadequacies in their public health infrastructure, human resource capacity, disease surveillance, laboratory diagnostics, and preparedness and response to health emergencies and disasters.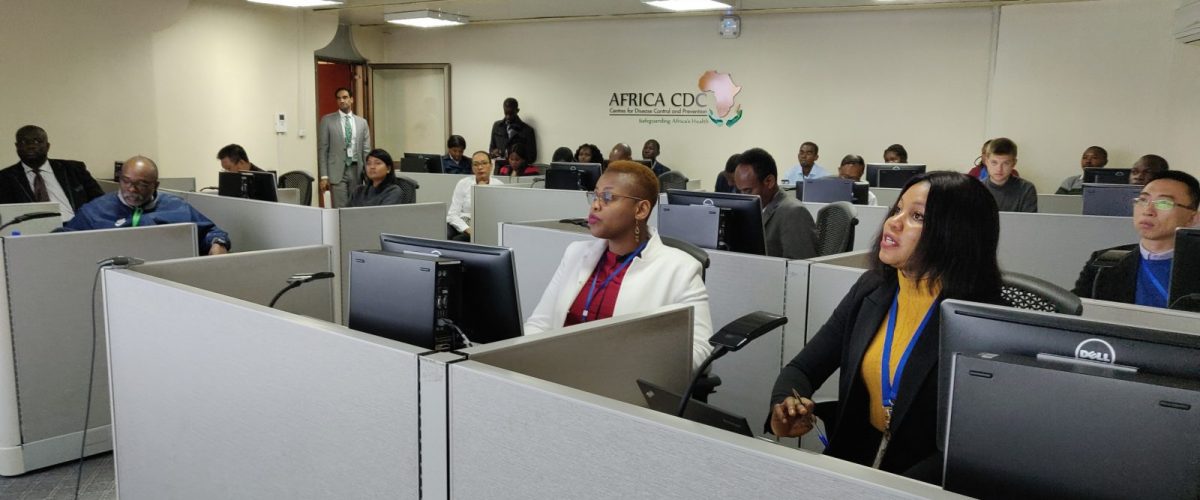 Established in January 2016 by the 26th Ordinary Assembly of Heads of State and Government and officially launched in January 2017, Africa CDC is guided by the principles of leadership, credibility, ownership, delegated authority, timely dissemination of information, and transparency in carrying out its day-to-day activities. The institution serves as a platform for Member States to share and exchange knowledge and lessons from public health interventions.
Establish early warning and response surveillance platforms to address all health threats and health emergencies and natural disasters in a timely and effective manner.
Assist Member States to address gaps in capabilities required for compliance with the International Health Regulations (IHR 2005).
Support and/or conduct regional- and country-level hazard mapping and risk assessments for Member States.
Support Member States in health emergency responses, particularly those which have been declared a public health emergency of international concern (PHEIC).
Harmonize disease control and prevention policies and the surveillance systems in Member States.
Support health promotion and disease prevention through health systems strengthening, by addressing infectious and non-communicable diseases, environmental health and NTDs.
Promote partnership and collaboration among Member States to address emerging and endemic diseases and public health emergencies.
Support Member States in public health capacity-building through medium- and long-term field epidemiological and laboratory training programmes.